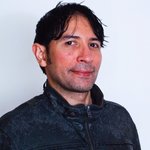 Roberto Vizzuett
Usually you can find me on printed and online media talking about music and video games. Love photography, and from time to time I like to do improvised digital drawings. Of lately I have found some joy in "remixing" photos, as you can see in some posts in here. Twitter: @vizzuett Instagram: @vizzuettr Roberto Vizzuett joined Society6 on August 9, 2015
More
Usually you can find me on printed and online media talking about music and video games. Love photography, and from time to time I like to do improvised digital drawings. Of lately I have found some joy in "remixing" photos, as you can see in some posts in here.
Twitter: @vizzuett Instagram: @vizzuettr
Roberto Vizzuett joined Society6 on August 9, 2015.