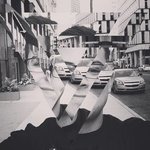 John Sippel
IG: @vltrr That saying "were you raised in a barn?" is only partly true. I was born an raised in upstate NY in the Finger Lakes region, just 30 minutes from Rochester. I spent a good chunk of my early life on a large horse stable where I caught my interest in the natural world. With living in farmville I wanted to get a taste of city life so I spent 4 incredible years in Detroit and now reside in Chicago. This cross between rural vs. city and nature vs. technology is a huge force behind my creative. John Sippel joined Society6 on August 4, 2016
More
IG: @vltrr
That saying "were you raised in a barn?" is only partly true. I was born an raised in upstate NY in the Finger Lakes region, just 30 minutes from Rochester. I spent a good chunk of my early life on a large horse stable where I caught my interest in the natural world.
With living in farmville I wanted to get a taste of city life so I spent 4 incredible years in Detroit and now reside in Chicago. This cross between rural vs. city and nature vs. technology is a huge force behind my creative.
John Sippel joined Society6 on August 4, 2016.