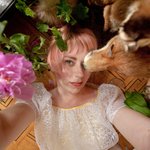 Mirella von Chrupek
My name is Mirella von Chrupek. I take photos, collect dolls, design lumiboxes and create little creatures. I love packing presents and visiting flea markets. I collect dolls, play with toys and I run an online shop Amo Mirella where I sell cute things. I like traveling but only with my dolls. http://www.vonchrupek.com/ http://www.flickr.com/vonchrupek http://www.amomirella.com/ Mirella von Chrupek joined Society6 on September 9, 2014
More
My name is Mirella von Chrupek. I take photos, collect dolls, design lumiboxes and create little creatures. I love packing presents and visiting flea markets. I collect dolls, play with toys and I run an online shop Amo Mirella where I sell cute things. I like traveling but only with my dolls.
http://www.vonchrupek.com/ http://www.flickr.com/vonchrupek http://www.amomirella.com/
Mirella von Chrupek joined Society6 on September 9, 2014.