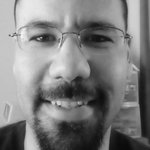 Vincent Vicari
I'm a self-taught artist and aspiring photographer. I'm heavily influenced by nature and specialize in mandala art and all things nature photography.
I'm intrigued by the purity of black and white photography and the simplicity of black and white mandala art. I enjoy adding color to both my photography and mandalas, but that is rare. There is a strength and humble power that can only be experienced through different tones of black, white and grays.
Black ink on white or slightly toned paper also adds a unique feeling and pulls the viewer in. Thank you for visiting and please check out my blog.
Read more