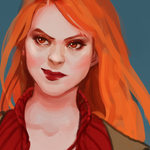 Vylla
I am a humble midwestern nerd girl drawing to pay towards some hefty student loans. Most of the stuff I hope to have here are things I would personally have on my walls and hope you would enjoy as well. Thus it'll always be a bit of a mixed bag. My art is a tumble of original and fandom based. If you don't like one, wait a little bit and the other will inevitably show up. Thank you all for stopping by! Vylla joined Society6 on December 9, 2012
More
I am a humble midwestern nerd girl drawing to pay towards some hefty student loans.
Most of the stuff I hope to have here are things I would personally have on my walls and hope you would enjoy as well. Thus it'll always be a bit of a mixed bag. My art is a tumble of original and fandom based. If you don't like one, wait a little bit and the other will inevitably show up.
Thank you all for stopping by!
Vylla joined Society6 on December 9, 2012.