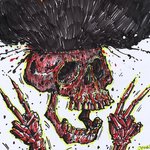 wahyudi77
I am the drawing artist, who lives in Bandung and Jakarta, Indonesia. I have been drawing since 1996. My speciality is printmaking and graphic illustration. If you wanna buy my drawing, or your band needs illustration, just hit me up in my instagram wahyudi77 or wahyudi.pratama@gmail.com. wahyudi77 joined Society6 on January 8, 2015
More
I am the drawing artist, who lives in Bandung and Jakarta, Indonesia. I have been drawing since 1996. My speciality is printmaking and graphic illustration.
If you wanna buy my drawing, or your band needs illustration, just hit me up in my instagram wahyudi77 or wahyudi.pratama@gmail.com.
wahyudi77 joined Society6 on January 8, 2015.