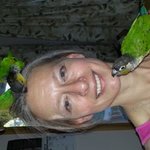 EMorse
I've been taking pictures all my life. But flowers have always beckoned me. I like to get close, to see what the bees see ... so to speak. I hope these bring you joy. EMorse is the pen name for Lila Bakke, an artist and writer who lives in Baltimore with her husband, 4 birds, 2 cats, numerous trees and flowers. EMorse joined Society6 on October 21, 2016
More
I've been taking pictures all my life. But flowers have always beckoned me. I like to get close, to see what the bees see ... so to speak. I hope these bring you joy.
EMorse is the pen name for Lila Bakke, an artist and writer who lives in Baltimore with her husband, 4 birds, 2 cats, numerous trees and flowers.
EMorse joined Society6 on October 21, 2016.
EMorse's Store
9 results
Filter