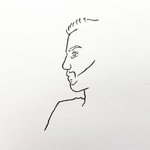 Waleed Khan
Surreal artwork surrounding different themes in charcoal and oil paint, and occasionally digital media. Just a college student trying to become a fluent artist. While I'm drawn to digital forms of art, I harbor a fondness for traditional media like charcoal and oil paint. I try to combine their classical aesthetic with modern images and ideas. Waleed Khan joined Society6 on March 22, 2014
More
Surreal artwork surrounding different themes in charcoal and oil paint, and occasionally digital media. Just a college student trying to become a fluent artist.
While I'm drawn to digital forms of art, I harbor a fondness for traditional media like charcoal and oil paint. I try to combine their classical aesthetic with modern images and ideas.
Waleed Khan joined Society6 on March 22, 2014.