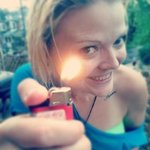 Walker Ballantyne - Hill
Walker Ballantyne - Hill is an illustrator with a small obsession for found objects. WHen she isn't furiously clicking away at vector renderings she often paints on found materials and recycled substrates. Walker was educated at The School of Art, Central Technical Institute in Toronto before going on to Ontario College of Art and Design Bachelor program in Illustration. She now works as a freelance illustrator with a wide range of experience from pattern design to advertising illustration, always with an distinct style, an eye for quality and a whole lot of fun. Please feel free to email me to discuss working together on your next creative project or with any inquiries you may have. Clients: IIDEX, Ampersand, Speakwell, Kemur Equestrian Camp, Small Print Toronto, George Brown College, Toronto District School Board, Somerset Graphics, Philip Mondor Design Associates, Good Golly Design, Indulge Ice Cream, Barbra Scliefer Clinic, Longboard Living, Triple 8, The Little Paper Walker Ballantyne - Hill joined Society6 on February 19, 2010
More
Walker Ballantyne - Hill is an illustrator with a small obsession for found objects. WHen she isn't furiously clicking away at vector renderings she often paints on found materials and recycled substrates.
Walker was educated at The School of Art, Central Technical Institute in Toronto before going on to Ontario College of Art and Design Bachelor program in Illustration. She now works as a freelance illustrator with a wide range of experience from pattern design to advertising illustration, always with an distinct style, an eye for quality and a whole lot of fun.
Please feel free to email me to discuss working together on your next creative project or with any inquiries you may have.
Clients: IIDEX, Ampersand, Speakwell, Kemur Equestrian Camp, Small Print Toronto, George Brown College, Toronto District School Board, Somerset Graphics, Philip Mondor Design Associates, Good Golly Design, Indulge Ice Cream, Barbra Scliefer Clinic, Longboard Living, Triple 8, The Little Paper
Walker Ballantyne - Hill joined Society6 on February 19, 2010.
Canvas by Walker Ballantyne - Hill
11 results
Filter