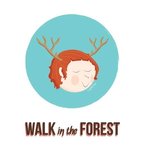 Walk In The Forest
Remember the good old days in the 1950's and 60's when space toys were all the rage, soft serve ice creams for 10c and the many household appliances that made the old metre long radio shake in its boots? Lucy-Ann Moore wasn't there, however she's bringing the easygoing, nostalgia back and mashing it up into colourful, bright and bubbly illustrations, logos, posters, t-shirts and packaging similar to the time. WEB: http://walkintheforestdesign.wordpress.com/ YOUTUBE: http://www.youtube.com/user/WalkInTheForestTV Walk In The Forest joined Society6 on July 30, 2011
More
Remember the good old days in the 1950's and 60's when space toys were all the rage, soft serve ice creams for 10c and the many household appliances that made the old metre long radio shake in its boots? Lucy-Ann Moore wasn't there, however she's bringing the easygoing, nostalgia back and mashing it up into colourful, bright and bubbly illustrations, logos, posters, t-shirts and packaging similar to the time.
WEB: http://walkintheforestdesign.wordpress.com/ YOUTUBE: http://www.youtube.com/user/WalkInTheForestTV
Walk In The Forest joined Society6 on July 30, 2011.
Framed Prints by Walk In The Forest
48 results
Filter