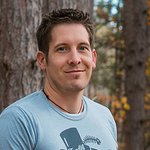 Brian Walline
www.brianwalline.com Brian Walline is a freelance designer and illustrator from Ann Arbor, Michigan. Not much is known of his early childhood. It is widely accepted that he first learned to draw at age five and first learned to kill fish with a stick at age seven. \--- Fact: The name of the original fish-clubbing instrument is "The Priest." --- Fact: Abraham said, "Well where ya want this killing done?" God said, "Out on highway 61." Brian Walline joined Society6 on December 15, 2009
More
www.brianwalline.com
Brian Walline is a freelance designer and illustrator from Ann Arbor, Michigan. Not much is known of his early childhood. It is widely accepted that he first learned to draw at age five and first learned to kill fish with a stick at age seven.
--- Fact: The name of the original fish-clubbing instrument is "The Priest." --- Fact: Abraham said, "Well where ya want this killing done?" God said, "Out on highway 61."
Brian Walline joined Society6 on December 15, 2009.