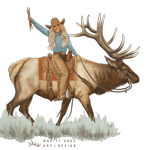 Wapiti Sage Design
I make artwork for western people.
Cattle ranchers. Hay farmers. Silversmiths. Clothiers. Horsemen. Photographers. Outfitters. Tack makers.
Folks are drawn to authenticity and a sense of nostalgia in my work, whether it's a watercolor breakaway roping cowgirl or a drawing of a cowpuncher spurring a buckin' horse. I aim to capture the romance of the west in my figures and scenes—vintage cowboys and cowgirl pinups; rodeo athletes and cattle ranchers; prized livestock and rocky mountain wildlife. Mountain peaks and blooming sage frequently show up in my work—which is to be expected after a lifetime being surrounded by those landscapes.
I create in a variety of mediums. All my fine art pieces are done in oil paints, watercolors, pencil and ink. My graphics and many illustrations are created completely or partially digitally, but it's all hand-drawn.
Read more
Wapiti Sage Design's Store
Filter
Wapiti Sage Design's Store