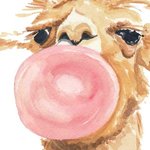 Water in My Paint
Unlike many artists who seem to have been born with a paint brush in their hand, the first time I seriously picked up a brush was in Fashion School where I was taught how to illustrate. It was illustration, not fashion, that stole my heart. I find inspiration in all types of animals but the ones who inspire me the most are the ones who keep me company all day (2 dogs, 2 cats). This trusty band of strays and runaways never fail to celebrate when a painting goes right, and commiserate when a painting goes bad. Water in My Paint joined Society6 on April 26, 2012
More
Unlike many artists who seem to have been born with a paint brush in their hand, the first time I seriously picked up a brush was in Fashion School where I was taught how to illustrate. It was illustration, not fashion, that stole my heart.
I find inspiration in all types of animals but the ones who inspire me the most are the ones who keep me company all day (2 dogs, 2 cats). This trusty band of strays and runaways never fail to celebrate when a painting goes right, and commiserate when a painting goes bad.
Water in My Paint joined Society6 on April 26, 2012.
Water in My Paint's Store
36 results
Filter