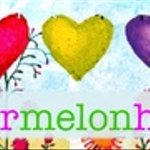 watermelonhearts
watermelonhearts features feminine and colourful works by me, Sarah Therese, an artist living on the Sunshine Coast in Queensland, Australia. I work with ink, watercolour and acrylic paints. Each piece is a celebration of joy, colour and nature, with a particular focus on dainty and colourful flowers. I have called my store "watermelonhearts" because I believe that, just like a watermelon, inside every person's resilient outer shell resides a sweet soft heart. And that's the part my art speaks from and to - the heart! You can follow me on Facebook at https://www.facebook.com/sarahjanethereseART/ or on Instagram https://www.instagram.com/sarahjtherese/ watermelonhearts joined Society6 on November 19, 2013
More
watermelonhearts features feminine and colourful works by me, Sarah Therese, an artist living on the Sunshine Coast in Queensland, Australia. I work with ink, watercolour and acrylic paints. Each piece is a celebration of joy, colour and nature, with a particular focus on dainty and colourful flowers.
I have called my store "watermelonhearts" because I believe that, just like a watermelon, inside every person's resilient outer shell resides a sweet soft heart. And that's the part my art speaks from and to - the heart!
You can follow me on Facebook at https://www.facebook.com/sarahjanethereseART/
or on Instagram https://www.instagram.com/sarahjtherese/
watermelonhearts joined Society6 on November 19, 2013.