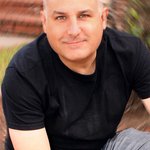 William Cuccio aka WCSmack
William Cuccio™ aka WCSmack™ American Digital Pop Artist based in Long Beach, California. A self taught artist that specializes in vector based Pop Art. His main influence and inspiration comes from the artwork of Andy Warhol. His specialty is creating works of his favorite entertainment artists and icons. The uniqueness of his work comes with the use of bright bold colors, deep blacks and distressed textures. In doing so, he honors his subjects through his works of art. His creations of Pop Art have been enjoyed and purchased from a wide array of clients since 2006. http://www.williamcuccio.com http://wcsmack.imagekind.com http://fineartamerica.com/profiles/william-cuccio.html https://twitter.com/williamcuccio http://instagram.com/wcsmack http://facebook.com/williamcuccio William Cuccio aka WCSmack joined Society6 on January 22, 2014
More
William Cuccio™ aka WCSmack™
American Digital Pop Artist based in Long Beach, California.
A self taught artist that specializes in vector based Pop Art. His main influence and inspiration comes from the artwork of Andy Warhol.
His specialty is creating works of his favorite entertainment artists and icons. The uniqueness of his work comes with the use of bright bold colors, deep blacks and distressed textures. In doing so, he honors his subjects through his works of art.
His creations of Pop Art have been enjoyed and purchased from a wide array of clients since 2006.
http://www.williamcuccio.com http://wcsmack.imagekind.com http://fineartamerica.com/profiles/william-cuccio.html https://twitter.com/williamcuccio http://instagram.com/wcsmack http://facebook.com/williamcuccio
William Cuccio aka WCSmack joined Society6 on January 22, 2014.