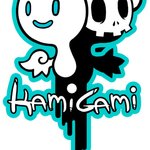 wearekamigami
Illustrator, Graphic Artist, and freelance Photographer. She graduated with a degree in Digital Art & Animation majoring in Entertainment Design. Joyce started Kamigami because of her love for Japanese mythology, animation, street fashion, and art. "I started Kamigami because of my love for streetwear/art and Japanese culture. I graduated with a Bachelor's Degree in Entertainment Design discovering my love for drawing characters. After I graduated, I realized I wanted to start something of my own. Why not combine my love for drawing characters with clothes and tell stories through the merchandise I create? I worked on a short film my last year of college as a senior project for college and it involved a love story between two Yokai. I read about the different types of Yokai day and night, drew them constantly, and became more and more intrigued with the absurd stories. Sadly, the short film never finished. I then discovered about Kami, which is the opposite of Yokai. Kami are gods and spirits in nature of the Shinto religion. There are many temples in Japan dedicated to Kami and many mythological stories about the creation of the world through Japan's eyes. So why not create both things I like? I asked two of my best friends to join me in making this dream come true, and they agreed. I wish to continue this inspiration and inspire others as well with a brand that is a little different than just designing a shirt. A shirt that tells stories and gives personality through each character as well. " Joyce Ng Kamigami www.wearekamigami.com wearekamigami joined Society6 on July 30, 2014
More
Illustrator, Graphic Artist, and freelance Photographer. She graduated with a degree in Digital Art & Animation majoring in Entertainment Design. Joyce started Kamigami because of her love for Japanese mythology, animation, street fashion, and art.
"I started Kamigami because of my love for streetwear/art and Japanese culture. I graduated with a Bachelor's Degree in Entertainment Design discovering my love for drawing characters. After I graduated, I realized I wanted to start something of my own. Why not combine my love for drawing characters with clothes and tell stories through the merchandise I create? I worked on a short film my last year of college as a senior project for college and it involved a love story between two Yokai. I read about the different types of Yokai day and night, drew them constantly, and became more and more intrigued with the absurd stories. Sadly, the short film never finished. I then discovered about Kami, which is the opposite of Yokai. Kami are gods and spirits in nature of the Shinto religion. There are many temples in Japan dedicated to Kami and many mythological stories about the creation of the world through Japan's eyes. So why not create both things I like? I asked two of my best friends to join me in making this dream come true, and they agreed.
I wish to continue this inspiration and inspire others as well with a brand that is a little different than just designing a shirt. A shirt that tells stories and gives personality through each character as well. "
Joyce Ng Kamigami www.wearekamigami.com
wearekamigami joined Society6 on July 30, 2014.