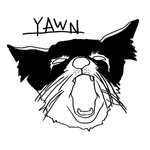 WEAREYAWN
YAWN means Yeah Awesome Wow Nice. YAWN is Annika and Sandra. We both studied graphic design and have been working together as freelance illustrators and graphic designers since 2009. We are influenced by music, pop, youth culture, fashion, 80s surf and skate design, high school movies (Brat Pack) and Hedi Slimane's photography. WEAREYAWN joined Society6 on November 21, 2010
More
YAWN means Yeah Awesome Wow Nice.
YAWN is Annika and Sandra. We both studied graphic design and have been working together as freelance illustrators and graphic designers since 2009.
We are influenced by music, pop, youth culture, fashion, 80s surf and skate design, high school movies (Brat Pack) and Hedi Slimane's photography.
WEAREYAWN joined Society6 on November 21, 2010.