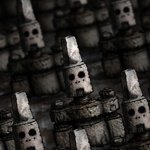 Weathered Robot
I began my illustrative career rather indirectly when I studied the wrong college course... Geology. I was only passing my exams because of my obsessive diagrams of rock textures and landscapes, and one day a lecturer said in passing "why aren't you in art college?".. A few weeks later I dropped out of University and the following year I began studying Design Communication. A few years and a college loan later, I graduated with a distinction and a strong understanding of design and illustration.
My illustrations still hold true to my days in geology where I found myself fascinated by texture and how in nature simple patterns seem to infinitely repeat itself depending on your perspective. Tricking the viewer into perceiving stone as bark and wood as a stormy sky all by its position and scale. There is a dominance of shadow in my work which creates focus and atmosphere. This invites the viewer to use their own imagination in deciphering the image and makes them fill in gaps and becoming involved in the image.
By day, I work as a Graphic Designer, but in my spare time (which there isn't enough of!), illustration is where my heart lies. You can see more of my work on my portfolio site:- http://weatheredrobot.carbonmade.com/
Thanks for dropping by, and if you like my work I'd really appreciate the support.
Cheers, Kevin
Read more
Weathered Robot's Store
Filter