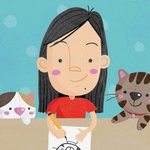 Reg Silva / Wedgienet.net
Hello. My name is Reg and I'm an illustrator and reluctant sometimes-graphic designer in Manila, Philippines. See more of my work: Website: http://wedgienet.net Instagram: http://instagram.com/wedgienet Facebook: http://facebook.com/wedgienet I would love to see you enjoying my art with your Society6 merchandise. Email/tweet me or share your photos on social media with the hashtag #WedgienetSociety6 FEEDBACK/COMMENTS/INQUIRIES: If you wish to contact me, please use the form here: http://wedgienet.net/contact Reg Silva / Wedgienet.net joined Society6 on August 8, 2012
More
Hello. My name is Reg and I'm an illustrator and reluctant sometimes-graphic designer in Manila, Philippines.
See more of my work: Website: http://wedgienet.net Instagram: http://instagram.com/wedgienet Facebook: http://facebook.com/wedgienet
I would love to see you enjoying my art with your Society6 merchandise. Email/tweet me or share your photos on social media with the hashtag #WedgienetSociety6
FEEDBACK/COMMENTS/INQUIRIES: If you wish to contact me, please use the form here: http://wedgienet.net/contact
Reg Silva / Wedgienet.net joined Society6 on August 8, 2012.