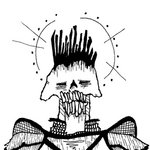 weekwah
My name is Sara, I'm a 21 year old artist. I love art. I'm a writer, I hope to be published some day, as well as an illustrator. I work both traditionally and digitally. I prefer tradition art, but I'm getting better with digital art. I have a thing for skeletons and renaissance halos. I hope you enjoy my art! Thanks for visiting! weekwah joined Society6 on May 30, 2013
More
My name is Sara, I'm a 21 year old artist. I love art. I'm a writer, I hope to be published some day, as well as an illustrator. I work both traditionally and digitally. I prefer tradition art, but I'm getting better with digital art. I have a thing for skeletons and renaissance halos.
I hope you enjoy my art! Thanks for visiting!
weekwah joined Society6 on May 30, 2013.