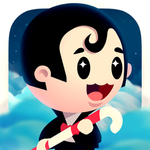 Wefiends
A team of three fiends with a passion for making games. We've been at it for 8 years, starting part-time with small Flash games before going full-time with the launch of Sushi Boy on mobile and desktop in 2010. Kevin Barrios is our artist and game designer. He started making games in his teens, teaming up with other artists and programmers on Newgrounds.com. His early titles include platformers Edward and Prehistoric. Nicholas Barrios takes on coding, design, and management duties. His love of all things digital started early, learning BASIC on an Apple II in middle school, from a retired Army Colonel turned teacher. Stephanie Fung takes on double duties as composer and graphic designer. She's been a musician all her life, and spends her time as singer-songwriter Montaine when not making epic chip-tunes for our games. Wefiends joined Society6 on December 19, 2014
More
A team of three fiends with a passion for making games. We've been at it for 8 years, starting part-time with small Flash games before going full-time with the launch of Sushi Boy on mobile and desktop in 2010.
Kevin Barrios is our artist and game designer. He started making games in his teens, teaming up with other artists and programmers on Newgrounds.com. His early titles include platformers Edward and Prehistoric.
Nicholas Barrios takes on coding, design, and management duties. His love of all things digital started early, learning BASIC on an Apple II in middle school, from a retired Army Colonel turned teacher.
Stephanie Fung takes on double duties as composer and graphic designer. She's been a musician all her life, and spends her time as singer-songwriter Montaine when not making epic chip-tunes for our games.
Wefiends joined Society6 on December 19, 2014.
Wefiends's Store
53 results
Filter