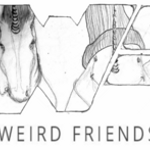 weird_friendship
Geese living in a bottle? A romantic friendship between a fat unicorn and a fat grey pony? A knitting dino that loves the beatles and his friend the future rockabilly duck? Bugs raving in an empty redbull can? Ninja kiwis and the flapple? A sleepy koala and a rainbow eucalyptus? Do you sometimes think your friends are weird? Get to know ours..... Well,... basically,... we`re mad. Insane. We lost it completely. But we see it as a good thing. [ The Mad Hatter: Have I gone mad? Alice Kingsley: I'm afraid so. You're entirely bonkers. But I'll tell you a secret. All the best people are. ] To protect our brains from imploding, we`re currently making a whole lot of stuff. Art, fashion, jewellery, nonsense. Everything just as unique as the people who made it. Aaaaaaand as the people we made it for. Because we want to share our weird little things with all of the other weirdos out there. We´re proud of being weird and so should you be. weird_friendship joined Society6 on February 12, 2016
More
Geese living in a bottle? A romantic friendship between a fat unicorn and a fat grey pony? A knitting dino that loves the beatles and his friend the future rockabilly duck? Bugs raving in an empty redbull can? Ninja kiwis and the flapple? A sleepy koala and a rainbow eucalyptus?
Do you sometimes think your friends are weird? Get to know ours..... Well,... basically,... we`re mad. Insane. We lost it completely. But we see it as a good thing.
[ The Mad Hatter: Have I gone mad? Alice Kingsley: I'm afraid so. You're entirely bonkers. But I'll tell you a secret. All the best people are. ]
To protect our brains from imploding, we`re currently making a whole lot of stuff. Art, fashion, jewellery, nonsense. Everything just as unique as the people who made it. Aaaaaaand as the people we made it for. Because we want to share our weird little things with all of the other weirdos out there. We´re proud of being weird and so should you be.
weird_friendship joined Society6 on February 12, 2016.