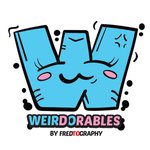 weirdorables
Are you weird? People think that i am. I am introvert and always like to be with myself and have lots of ideas and throughs in my mind. This give me the idea for creating this piece of artwork. An composition of weird but adorable characters squeezing together in a tight space. The characters represent the different ideas and thoughts. They come in different expression and moods, portraying in a fun and mischievous way. They are random and each of them have their stories to tell. They also portray the current problem of overpopulation. Get Weirdorables! Weirdorables is created by Fredtography, a illustrator, designer and art director in Singapore. fredtography.com weirdorables joined Society6 on September 29, 2016
More
Are you weird? People think that i am.
I am introvert and always like to be with myself and have lots of ideas and throughs in my mind. This give me the idea for creating this piece of artwork.
An composition of weird but adorable characters squeezing together in a tight space. The characters represent the different ideas and thoughts. They come in different expression and moods, portraying in a fun and mischievous way. They are random and each of them have their stories to tell. They also portray the current problem of overpopulation. Get Weirdorables!
Weirdorables is created by Fredtography, a illustrator, designer and art director in Singapore. fredtography.com
weirdorables joined Society6 on September 29, 2016.