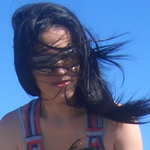 ArtBook
(っ◔◡◔)っ  🎀  𝕳𝖎!  🎀   (っ◔◡◔)っ
---
𝓒𝓾𝓻𝓻𝓮𝓷𝓽 𝓙𝓸𝓫𝓼:
𝕱𝖚𝖑𝖑 𝖙𝖎𝖒𝖊: proud mom of my kids & housewife
𝕻𝖆𝖗𝖙 𝖙𝖎𝖒𝖊: a freelance digital artist, illustrator, graphic designer and fantasy story writer.
𝕳𝖔𝖇𝖇𝖞 𝖆𝖘: Food Artist & DIYer
---
𝓐𝓫𝓸𝓾𝓽 𝓶𝔂 𝓹𝓻𝓮𝓿𝓲𝓸𝓾𝓼 𝔀𝓸𝓻𝓴 & 𝓽𝓱𝓮 𝓵𝓲𝓯𝓮 𝓷𝓸𝔀:
I am no longer active in any of my previous business, jobs or activities other than above now, altho I really LOVE all those works that I used to do. My life circumstances has changed drastically that I have to reorganize myself to go back in the right track and start looking for new opportunities to follow my dreams.
---
Colorful, cuteness and fantasy are descriptions of my art style.
Main creative inspirations come from instrumental music.
ᴛʜᴀɴᴋ ʏᴏᴜ ꜰᴏʀ ʟɪᴋɪɴɢ, ᴘʀᴏᴍᴏᴛɪɴɢ, ꜱʜᴀʀɪɴɢ & ʙᴜʏɪɴɢ ᴍʏ ᴀʀᴛ.
✮
✮
╭━━✧✧𝕮𝖔𝖓𝖓𝖊𝖈𝖙 𝖜𝖎𝖙𝖍 𝖒𝖊✧✧━━╮
https://www.𝗽𝗶𝗻𝘁𝗲𝗿𝗲𝘀𝘁.𝗰𝗵/𝘄𝗲𝗶𝘃𝘆𝗔𝗥𝗧𝗕𝗢𝗢𝗧𝗛 -> ᵉᵃˢʸ ᵈᵉˢⁱᵍⁿ ᵇʳᵒʷˢⁱⁿᵍ
╰─━━━━━━━━━━━━━━━━━━━━━━━━━━─╯
✮
✮
▓▓▓█ 𝕹𝖊𝖜𝖘 𝖚𝖕𝖉𝖆𝖙𝖊 𝖔𝖓 November 27, 2018 █▓▓▓
◘ First of all, thx again for all your continuous supports & for the sales in 2018.
◘ My newborn princess is a toddler now, so I feel somehow even busier with 2 kids. haha...
◘ I'm not really back to work on S6 again, still got lots of things to reorganize & remodel all the rooms at home due to loads of self-DIYs, so it will surely still take many... many... more months/years in order to be active on here again. It's kinda hard to find extra time, bcoz of kids, food arts (developing recipe for special diet for DS due to his intolerance) & house stuffs. I apologize if I can't catch up much on here, since family comes first after all.
---
𝕬𝖇𝖔𝖚𝖙 𝖒𝖞 𝖕𝖗𝖔𝖏𝖊𝖈𝖙𝖘:
◘ International donation is not active as before, but will continue with monthly local support.
◘ STILL ON-GOING CHARITABLE PROJECTS:
➡ Still continue selling on S6 for good cause; at least 50% Sales from here will be donated for children cancer league & other foundations.
Thus, I thank you for supporting me.
---
CLOSED: us$100.- giveaway start: 27/11/2016 end: 29/11/2016 18:00 In the end, I have split the prizes into 3 ppl, instead of draw a name, since they helped me a lot in promoting, but unfortunately the shipping to 1 certain country not yet possible on S6, so I just increased the value to the ones I could. more info -> bit.ly/2fHcw6R Result: bit.ly/2fzVokE
Read more