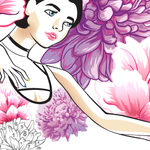 Wendy Ding
Wendy Ding is an illustrator / graphic designer based in Toronto, Canada. Her specialty is creating patterns / textiles for apparel and products, and fashion illustration. She holds a 2008 BAA: Illustration degree from Sheridan Institute. Some of her favourite things are music, food, dancing, dogs and travel. Portfolio: http://www.wendyding.com Instagram: @wendy_ding Facebook: http://www.facebook.com/wendydingillustration Twitter: http://www.twitter.com/wendyding Wendy Ding joined Society6 on July 9, 2009
More
Wendy Ding is an illustrator / graphic designer based in Toronto, Canada. Her specialty is creating patterns / textiles for apparel and products, and fashion illustration. She holds a 2008 BAA: Illustration degree from Sheridan Institute. Some of her favourite things are music, food, dancing, dogs and travel.
Portfolio: http://www.wendyding.com Instagram: @wendy_ding Facebook: http://www.facebook.com/wendydingillustration Twitter: http://www.twitter.com/wendyding
Wendy Ding joined Society6 on July 9, 2009.
Tshirts by Wendy Ding
27 results
Filter