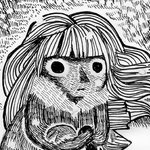 Ursula Hart
As a child I read a lot of picture books. I found the illustrations captivating: they often said so much more to me than the text. The images helped me to make sense of the world. That child-like sense of wonder, (like when you look into the water and think about all of the creatures lurking in the depths that you can't see), is the reason most of my work is in a picture book style, but of course it is not only aimed at children. I find microcosms and miniature ecosystems fascinating, and that accounts for some of my most detailed art and my fish keeping obsession. I want to create miniature worlds in my pictures, to get lost in, to explore, to find hidden things and to find new ways of finding hidden things. And if sometimes creativity needs to verge on ridiculousness, so be it. Website: www.ursula-hart.com Ursula Hart joined Society6 on May 27, 2014
More
As a child I read a lot of picture books. I found the illustrations captivating: they often said so much more to me than the text. The images helped me to make sense of the world. That child-like sense of wonder, (like when you look into the water and think about all of the creatures lurking in the depths that you can't see), is the reason most of my work is in a picture book style, but of course it is not only aimed at children.
I find microcosms and miniature ecosystems fascinating, and that accounts for some of my most detailed art and my fish keeping obsession. I want to create miniature worlds in my pictures, to get lost in, to explore, to find hidden things and to find new ways of finding hidden things. And if sometimes creativity needs to verge on ridiculousness, so be it.
Website: www.ursula-hart.com
Ursula Hart joined Society6 on May 27, 2014.