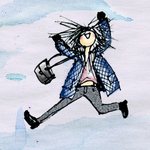 Where's My Bubble
Hi I'm Debbie. I've been drawing for as long as I can remember. I do sketches of everyday life, painting, illustrations and comics. I use mostly ink, watercolours and some mixed media. Do visit my blog and and message me if you have any questions! www.wheresmybubble.tumblr.com Where's My Bubble joined Society6 on January 27, 2015
More
Hi I'm Debbie. I've been drawing for as long as I can remember. I do sketches of everyday life, painting, illustrations and comics. I use mostly ink, watercolours and some mixed media. Do visit my blog and and message me if you have any questions!
www.wheresmybubble.tumblr.com
Where's My Bubble joined Society6 on January 27, 2015.
Where's My Bubble's Store
65 results
Filter