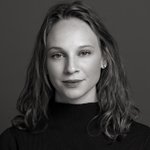 Whitney E. Wernick
Photographer and Studio Artist, born and raised in DFW, Texas. Recently graduated from Santa Fe University of Art and Design, in New Mexico. Receiving a BFA in Photography: Commercial Practices and BA in Studio Arts program. Abstract nudes, fashion portraits, commercial imagery, as well as shedding light into some of the world's controversial, social & ecological concerns make up Wernick's photographic focus. While in painting she explores Abstract & Contemporary styles. Whitney E. Wernick joined Society6 on February 23, 2016
More
Photographer and Studio Artist, born and raised in DFW, Texas. Recently graduated from Santa Fe University of Art and Design, in New Mexico. Receiving a BFA in Photography: Commercial Practices and BA in Studio Arts program.
Abstract nudes, fashion portraits, commercial imagery, as well as shedding light into some of the world's controversial, social & ecological concerns make up Wernick's photographic focus.
While in painting she explores Abstract & Contemporary styles.
Whitney E. Wernick joined Society6 on February 23, 2016.