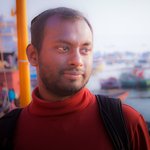 whoisram
Rammohan Paranjape is an adventure loving, a travel enthusiast and India's first surf photographer. The major breakthrough in his life came when at 16 he decided to come out of the "system" and follow his dream to explore the world of photography - his passion, and to make his world full of creativity. He believes in the art of capturing the enigma behind the scenes, its beauty, mood, and reflection of its people and persona. He is a gentleman who enjoys action packed activities, and surfing, he believes, is the most soul-tastic progeny of outdoor adventure sports, and his love for the sport has earned him the distinction of being the only surf photographer in India. Martial arts, motorbikes, gadgets, books are his other frame of interest. Just like his very own temperament he does not like to confine himself with a particular theme, but likes to diversify. What keeps him moving through this journey is his consistent drive for creativity and the principles taught by his mentor the "Surfing Swami". He is aesthetically attuned and philosophical. His passion and drive for framed moments with proper studies and observation helps him to get that "picture perfect" shot. He believes in spontaneity and vitality that makes every moment unique just like a wave in the ocean that drives you crazy so as a smile of a stranger and the busy-ness of a crowd and the transformation that each blink of eye carry. whoisram joined Society6 on December 13, 2015
More
Rammohan Paranjape is an adventure loving, a travel enthusiast and India's first surf photographer. The major breakthrough in his life came when at 16 he decided to come out of the "system" and follow his dream to explore the world of photography - his passion, and to make his world full of creativity. He believes in the art of capturing the enigma behind the scenes, its beauty, mood, and reflection of its people and persona.
He is a gentleman who enjoys action packed activities, and surfing, he believes, is the most soul-tastic progeny of outdoor adventure sports, and his love for the sport has earned him the distinction of being the only surf photographer in India. Martial arts, motorbikes, gadgets, books are his other frame of interest. Just like his very own temperament he does not like to confine himself with a particular theme, but likes to diversify.
What keeps him moving through this journey is his consistent drive for creativity and the principles taught by his mentor the "Surfing Swami". He is aesthetically attuned and philosophical. His passion and drive for framed moments with proper studies and observation helps him to get that "picture perfect" shot.
He believes in spontaneity and vitality that makes every moment unique just like a wave in the ocean that drives you crazy so as a smile of a stranger and the busy-ness of a crowd and the transformation that each blink of eye carry.
whoisram joined Society6 on December 13, 2015.
whoisram's Store
11 results
Filter