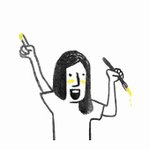 Y Ana Miranda
Y. is the question we ask over and over! Why this? Why that? Why now? Why Ana Miranda?
Well, I don't have all those answers, but I can show you some of my illustrations and hope you'll eventually like them! Maybe buy them!!
Why? Because it's fun.
Read more
Y Ana Miranda's Store
Filter