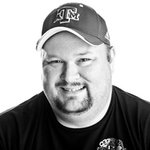 Wicked Light Photography
My name is Brad Leese. I love shooting landscapes, weird angles, architecture, abstracts, people, animals and anything else that catches my eye. I'm a full-time photographer in Hutto, Tx and run Wicked Light Photography and Austin Media Slingers. My facebook page is: https://www.facebook.com/WickedLight My Twitter page is: https://twitter.com/WickedLight Website: http://www.wickedlight.com Wicked Light Photography joined Society6 on January 30, 2013
More
My name is Brad Leese. I love shooting landscapes, weird angles, architecture, abstracts, people, animals and anything else that catches my eye. I'm a full-time photographer in Hutto, Tx and run Wicked Light Photography and Austin Media Slingers.
My facebook page is: https://www.facebook.com/WickedLight My Twitter page is: https://twitter.com/WickedLight Website: http://www.wickedlight.com
Wicked Light Photography joined Society6 on January 30, 2013.