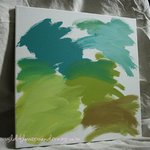 wildflowerwanderer
Hi, my name is Mary Eva. I'm an acrylic artist with a degree in graphic design, which pulls my work in many different directions, but my heart loves to wander with it. You can check out more of my paintings on Etsy: http://www.etsy.com/shop/wildflowerwanderings Follow me on Facebook: https://www.facebook.com/WildflowerWanderings I am available from time to time to work on commissions, so if you are looking for an original piece of art and you think I'm the artist to make that happen, please feel free to contact me through my site and we'll see if our flavors match up well. Kinda like...peanut butter and fluff. wildflowerwanderer joined Society6 on July 16, 2012
More
Hi, my name is Mary Eva. I'm an acrylic artist with a degree in graphic design, which pulls my work in many different directions, but my heart loves to wander with it.
You can check out more of my paintings on Etsy: http://www.etsy.com/shop/wildflowerwanderings
Follow me on Facebook: https://www.facebook.com/WildflowerWanderings
I am available from time to time to work on commissions, so if you are looking for an original piece of art and you think I'm the artist to make that happen, please feel free to contact me through my site and we'll see if our flavors match up well. Kinda like...peanut butter and fluff.
wildflowerwanderer joined Society6 on July 16, 2012.