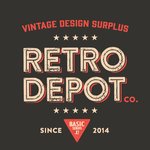 RetroDepot
I'm Colin a freelance Graphic Designer from Sussex, UK, currently available for custom work. I'd love for my designs to be infectious and for you to enjoy them in your own home or workplace. I've joined Society6 to expand my designs into other amazing products. Feel Free to Message me with any queries you may have! -- Colin RetroDepot joined Society6 on February 20, 2014
More
I'm Colin a freelance Graphic Designer from Sussex, UK, currently available for custom work. I'd love for my designs to be infectious and for you to enjoy them in your own home or workplace. I've joined Society6 to expand my designs into other amazing products.
Feel Free to Message me with any queries you may have!
-- Colin
RetroDepot joined Society6 on February 20, 2014.
RetroDepot's Store
56 results
Filter