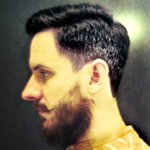 Will Hill
For more than a decade, Will Hill has been living & working in the wild world of freelance under the name of DELCOdesigns. Over those years his resume boasts a diverse list of creative roles for an impressive range of companies like Levi's, Honda, the United Football League, Pro Merch and Pathe Films to name a few. His work extends into almost every creative medium, spanning from print to web, product design to award shows. He seamlessly moves across industries sectors, bringing years worth of experience to every project he takes on. He has extensive experience building brands in the fashion, sports, entertainment and non-profits sectors.
Obsessed with information, he is constantly gathering & uses his diverse collection of knowledge to solve problems. Consumed with continual data, he effortlessly discerns demographic trends and social consumer patterns. He is extremely entrepreneurial & is constantly involved in new start-up ventures.
"Will is the vanguard of the causal creatives… an action leader totally without the 'we've-always-done-it-that-way' gene or the 'that-is-too-big' infection."
Will dedicates a lot of his time & skills to humanitarian causes as well. From Orphanages in Haiti to Music Schools in Zambia, Will works tirelessly to support his fellow world citizens. With the fundamental belief that each person is created wonderfully, uniquely, and with intention, Will's worldview forces him to help make the invisible visible. Through his humanitarian efforts, he has helped provide access to school for thousands of children in developing countries.
In 2011, Levi's named a pair of jeans after him. The "Will Hill's" were available on Levi's website & in their stores around the world in the 510, 511, and 514 cuts.
In his spare time, Will enjoys spending time with his wife, reading anything he can get his hands on, & tweeting on twitter.
Read more