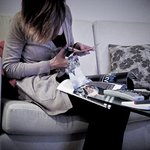 Willy Ollero
Like the masters of the great European art movements of the twentieth century, such as Dada and Surrealism, artist Willy Ollero seamlessly blends drawing with illustration and collage with text in deft appropriation. Ollero creates a passionate intensity, with written compositions contributing a stirring, evocative emotion. Magical in its sense of spliced fantasy, the work finds whimsical, zealous ardor in each and every subject. The artist's signature thick, opulent black lines link the works in comforting series. Willy Ollero lives in Madrid, Spain, and works as an architect. Willy Ollero joined Society6 on March 7, 2011
More
Like the masters of the great European art movements of the twentieth century, such as Dada and Surrealism, artist Willy Ollero seamlessly blends drawing with illustration and collage with text in deft appropriation. Ollero creates a passionate intensity, with written compositions contributing a stirring, evocative emotion. Magical in its sense of spliced fantasy, the work finds whimsical, zealous ardor in each and every subject. The artist's signature thick, opulent black lines link the works in comforting series.
Willy Ollero lives in Madrid, Spain, and works as an architect.
Willy Ollero joined Society6 on March 7, 2011.