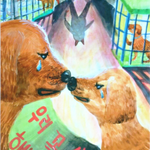 Help Korean Dogs
We support the Anti Dog Meat Trade in Asia, especially in South Korea. We aim at helping the on the ground activists who save and rescue dogs daily from this outdated and barbaric practice. Our goal is to end this cruel and inhumane torture against dogs once and for all. Please support us and those activists who do this day after day so there will be no more agony or suffering for the dogs. 100% of the proceeds from your purchase will go directly to the activists in South Korea who are tirelessly working year round to save these dogs. Thank you for your support! Help Korean Dogs joined Society6 on November 12, 2016
More
We support the Anti Dog Meat Trade in Asia, especially in South Korea. We aim at helping the on the ground activists who save and rescue dogs daily from this outdated and barbaric practice. Our goal is to end this cruel and inhumane torture against dogs once and for all. Please support us and those activists who do this day after day so there will be no more agony or suffering for the dogs.
100% of the proceeds from your purchase will go directly to the activists in South Korea who are tirelessly working year round to save these dogs. Thank you for your support!
Help Korean Dogs joined Society6 on November 12, 2016.
Help Korean Dogs's Store
1 results
Filter