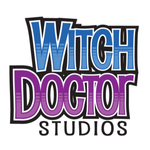 witch doctor
Hello, I am the Witch Doctor. I work professionally as a motion graphics artist, but make lots of different types of artwork in my spare time. These artworks tend to fall into a few different categories: * Hand-Lettering & Graffiti-Inspired Lettering * Surfing & Waves * Composites: drawings of real-life people and objects, jumbled in the frame * Conjurings: scribbly, improvised drawings that have become a personal trademark View my professional work at: http://www.witchdrs.com Please don't hesitate to reach out and contact me. witch doctor joined Society6 on January 8, 2017
More
Hello, I am the Witch Doctor.
I work professionally as a motion graphics artist, but make lots of different types of artwork in my spare time.
These artworks tend to fall into a few different categories:
Hand-Lettering & Graffiti-Inspired Lettering

Surfing & Waves

Composites: drawings of real-life people and objects, jumbled in the frame

Conjurings: scribbly, improvised drawings that have become a personal trademark
View my professional work at: http://www.witchdrs.com
Please don't hesitate to reach out and contact me.
witch doctor joined Society6 on January 8, 2017.