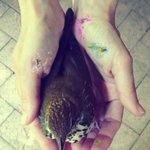 o my soul
I love making things with my hands. I don't limit myself to one medium as I'm a bit of an explorer at heart. My disciplines include painting, photography, book arts, assemblage, and jewelry (which I sell on etsy). I have been exhibiting my work since 1986. My work has been published in the US, Canada and the UK. My work has been sold at charity events such as the "Postcards From the Edge" benefit for Visual AIDS of NYC; Northern Virginia Family Service; and The Fund for Women Artists. In 2009, I launched Mighty Girl Art™, an art empowerment camp for girls. Formerly a NYC native, I now reside in Northern Virgina. o my soul joined Society6 on November 7, 2013
More
I love making things with my hands. I don't limit myself to one medium as I'm a bit of an explorer at heart. My disciplines include painting, photography, book arts, assemblage, and jewelry (which I sell on etsy). I have been exhibiting my work since 1986. My work has been published in the US, Canada and the UK. My work has been sold at charity events such as the "Postcards From the Edge" benefit for Visual AIDS of NYC; Northern Virginia Family Service; and The Fund for Women Artists.
In 2009, I launched Mighty Girl Art™, an art empowerment camp for girls. Formerly a NYC native, I now reside in Northern Virgina.
o my soul joined Society6 on November 7, 2013.
o my soul's Store
9 result
Filter