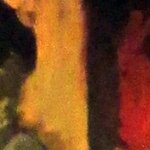 Whitney LeeAnn
I spend as much time collecting my materials as I spend aborting art. That is: a lot. I spend as much time describing my art as I spend clipping my toenails. That is: nary at all. Partially because I'm contrariwise as hell; also my grandfather's wisdom: "People who talk too much either repeat themselves or lie." My work is accumulated from the works of others, recovered reworked removed respoken. Everyone whose work is appropriated in my process is by necessity included anonymously, Without citation or mention of source materials reaped from or even the artists' names, Presumably: without their explicit consent & Quite Possibly: against their will. Hopefully: to their delight and flattery & Realistically: to their perpetual unawares. Who the hell's gonna notice, seriously. Still...if you find your work appropriated into something shitty or divine, know I took pains to chew before swallowing, to combine you with the other unnamed phenoms before expelling you anew, my recreation. "Be like the fox, who makes more tracks than necessary, some in the wrong direction. Practice resurrection." - Wendell Berry Whitney LeeAnn joined Society6 on July 9, 2013
More
I spend as much time collecting my materials as I spend aborting art. That is: a lot. I spend as much time describing my art as I spend clipping my toenails. That is: nary at all. Partially because I'm contrariwise as hell; also my grandfather's wisdom: "People who talk too much either repeat themselves or lie."
My work is accumulated from the works of others, recovered reworked removed respoken. Everyone whose work is appropriated in my process is by necessity included anonymously, Without citation or mention of source materials reaped from or even the artists' names, Presumably: without their explicit consent & Quite Possibly: against their will. Hopefully: to their delight and flattery & Realistically: to their perpetual unawares. Who the hell's gonna notice, seriously.
Still...if you find your work appropriated into something shitty or divine, know I took pains to chew before swallowing, to combine you with the other unnamed phenoms before expelling you anew, my recreation.
"Be like the fox, who makes more tracks than necessary, some in the wrong direction. Practice resurrection." - Wendell Berry
Whitney LeeAnn joined Society6 on July 9, 2013.