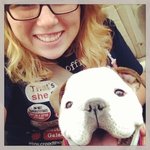 WNN Creations
My name is Whitney, I am a 20-something year old aspiring artist. Some things that you might like to know about me… Eyeballs and feet gross me out, I tend to lose my mind if my house is too messy (except my bedroom and my art room… they are NEVER tidy), I am terrified of lighting matches, and I have always loved the idea of being an artist, I've just never really known how to take action. So I am starting here. Painting, drawing, photography, and graphic art are some of my specialties. I'm a newly-wed and a parent of two ADORABLE puppies just living, loving, and creating one day at a time. My husband supports me in all things I do. He treats me like a princess every single day. I am the luckiest girl in the world because of that man. I am pushing to start selling some of my artwork… because let's be honest, pocket change is nice. Comforting even. Because I am just starting out you will notice my prices are a bit lower than others. In reality… it's not the money making part that is motivating me. I just get so excited by the idea that someone would want my art hanging on their walls. WNN Creations joined Society6 on December 2, 2013
More
My name is Whitney, I am a 20-something year old aspiring artist. Some things that you might like to know about me… Eyeballs and feet gross me out, I tend to lose my mind if my house is too messy (except my bedroom and my art room… they are NEVER tidy), I am terrified of lighting matches, and I have always loved the idea of being an artist, I've just never really known how to take action. So I am starting here. Painting, drawing, photography, and graphic art are some of my specialties. I'm a newly-wed and a parent of two ADORABLE puppies just living, loving, and creating one day at a time. My husband supports me in all things I do. He treats me like a princess every single day. I am the luckiest girl in the world because of that man.
I am pushing to start selling some of my artwork… because let's be honest, pocket change is nice. Comforting even. Because I am just starting out you will notice my prices are a bit lower than others. In reality… it's not the money making part that is motivating me. I just get so excited by the idea that someone would want my art hanging on their walls.
WNN Creations joined Society6 on December 2, 2013.