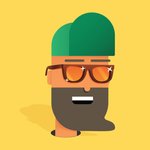 WoOdie Naturally cool
About WoOdie We want to help you keep your eyes wide open, no matter what's coming at you. So go ahead. Shut your laptop, put down the phone, and leave the clogged city traffic behind to take on the bluest skies and the brightest sun. Carve up the backcountry. Crouch in a hollow wave. Stomp a half-pipe. Hit the dirt. Get up, and get at it again. At WoOdie, we believe in spicing up urban life by taking the time to reconnect with nature, and exploring all there is to explore. We also believe that we should leave nature the same way we found it, so we can keep enjoying it. And that's exactly why we reuse, reduce, recycle, maintain green areas, and get involved with community initiatives, whenever we can. We also make a point of planting a tree for each pair of sunglasses we sell. We know you've got your own way of doing things, and you're probably pretty happy to be marching to the beat of your own drum. When we designed our sunglasses, we had our eyes set on creating designs that would complement the bold individuality that's become so integral to who you are. Each pair is handcrafted out of either 100% natural ebony, bamboo or Canadian Maple, and because of that, no two pairs are exactly the same, so it's really impossible for anyone to bite your style. WoOdie Naturally cool joined Society6 on June 28, 2015
More
About WoOdie We want to help you keep your eyes wide open, no matter what's coming at you.
So go ahead. Shut your laptop, put down the phone, and leave the clogged city traffic behind to take on the bluest skies and the brightest sun. Carve up the backcountry. Crouch in a hollow wave. Stomp a half-pipe. Hit the dirt. Get up, and get at it again.
At WoOdie, we believe in spicing up urban life by taking the time to reconnect with nature, and exploring all there is to explore. We also believe that we should leave nature the same way we found it, so we can keep enjoying it. And that's exactly why we reuse, reduce, recycle, maintain green areas, and get involved with community initiatives, whenever we can. We also make a point of planting a tree for each pair of sunglasses we sell.
We know you've got your own way of doing things, and you're probably pretty happy to be marching to the beat of your own drum. When we designed our sunglasses, we had our eyes set on creating designs that would complement the bold individuality that's become so integral to who you are. Each pair is handcrafted out of either 100% natural ebony, bamboo or Canadian Maple, and because of that, no two pairs are exactly the same, so it's really impossible for anyone to bite your style.
WoOdie Naturally cool joined Society6 on June 28, 2015.
WoOdie Naturally cool's Store
52 results
Filter