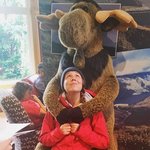 WoosterTheRooster
Hi there, My name is Lauren Wooster and I am a traveler. I am young, fresh out of the University scene, and looking forward to exploring as much of the world as possible. My goal is to visit every country in the world before I turn 30. I have 8 years and over 200 countries to go. While I travel, I really enjoy taking photos, as I tend to visit some extremely pretty places, it is quite easy to take awesome photographs. While I undoubtedly have little skill in photography and am sad to say my camera recently broke, I thought I might put my work out there just to see if I could make some spare change. More importantly, I would like to share my travels with you, I hope that you enjoy them and that you find the time to have some adventures of your own. Thank you so much for giving my pictures some attention. Cheers, Lauren http://www.travelpod.com/travel-blog/woostinator/1/tpod.html WoosterTheRooster joined Society6 on September 26, 2015
More
Hi there,
My name is Lauren Wooster and I am a traveler. I am young, fresh out of the University scene, and looking forward to exploring as much of the world as possible. My goal is to visit every country in the world before I turn 30. I have 8 years and over 200 countries to go. While I travel, I really enjoy taking photos, as I tend to visit some extremely pretty places, it is quite easy to take awesome photographs. While I undoubtedly have little skill in photography and am sad to say my camera recently broke, I thought I might put my work out there just to see if I could make some spare change. More importantly, I would like to share my travels with you, I hope that you enjoy them and that you find the time to have some adventures of your own. Thank you so much for giving my pictures some attention.
Cheers,
Lauren
http://www.travelpod.com/travel-blog/woostinator/1/tpod.html
WoosterTheRooster joined Society6 on September 26, 2015.