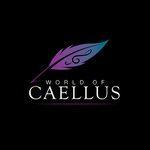 World of Caellus
In the urge of uniting our passions for music, literature and art, we have created a world, where the story travels parallel to our music, and our music directly represents Paulo Munoz's story, the World of Caellus, giving birth to yet an idea for the name of the record label that will carry our music. "World of Caellus", where the artists will bring to life the story's characters and their music will be about the characters crusades. Our goals don't limit to music and writing, but also to art, having a triangle of different type of artists creating a world together for your enjoyment. https://www.facebook.com/worldofcaellus World of Caellus joined Society6 on March 21, 2016
More
In the urge of uniting our passions for music, literature and art, we have created a world, where the story travels parallel to our music, and our music directly represents Paulo Munoz's story, the World of Caellus, giving birth to yet an idea for the name of the record label that will carry our music. "World of Caellus", where the artists will bring to life the story's characters and their music will be about the characters crusades.
Our goals don't limit to music and writing, but also to art, having a triangle of different type of artists creating a world together for your enjoyment.
https://www.facebook.com/worldofcaellus
World of Caellus joined Society6 on March 21, 2016.