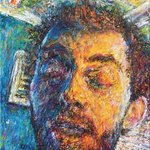 Josh De Pasquale
FREE Worldwide Shipping when they order from your Society6 Store Promotion expires November 9, 2014 at Midnight Pacific Time. *Offer excludes Framed Art Prints, Stretched Canvases and Rugs U$E THIS LINK http://society6.com/wwwjosh?promo=49WMFW3M9WD2 Josh De Pasquale has been painting since 2011 when he started art classes at the prompting of a friend. Josh designs graphics, paints and is working on his photography. Josh applies knowledge across disciplines to continually improve. Josh's goal is providing illustration of situations to overcome communication difficulties around mental blocks and allow people working together to share their experiences, form opinions and defeat worries. Discussion and criticisms on: http://www.paintingsilove.com/artist/joshdepasquale B$UY products & prints: http://www.redbubble.com/people/wwwjosh http://society6.com/wwwjosh Josh De Pasquale joined Society6 on January 9, 2012
More
FREE Worldwide Shipping when they order from your Society6 Store Promotion expires November 9, 2014 at Midnight Pacific Time. *Offer excludes Framed Art Prints, Stretched Canvases and Rugs U$E THIS LINK http://society6.com/wwwjosh?promo=49WMFW3M9WD2
Josh De Pasquale has been painting since 2011 when he started art classes at the prompting of a friend. Josh designs graphics, paints and is working on his photography. Josh applies knowledge across disciplines to continually improve. Josh's goal is providing illustration of situations to overcome communication difficulties around mental blocks and allow people working together to share their experiences, form opinions and defeat worries.
Discussion and criticisms on: http://www.paintingsilove.com/artist/joshdepasquale
B$UY products & prints: http://www.redbubble.com/people/wwwjosh http://society6.com/wwwjosh
Josh De Pasquale joined Society6 on January 9, 2012.