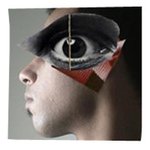 Yoav Lavi | יואב לביא
About Yoav Lavi | יואב לביא
Hi my name is Yoav Lavi.
I'm an Illustrator and Collagist from Jerusalem, Israel.
Graduated at Bezalel arts and design academy, Department of Visual Communication, focusing on Illustration and Collage.
You can see more of my works in my carbonmade and filckr acounts!
היי אני יואב לביא,
מאייר וקולאז'יסט מירושלים,
בוגר אקדמיה לאמנות ועיצוב בצלאל, תקש"ח מסלול איור.
אם בא לכם לראות עוד עבודות אתם מוזמנים לבקר
בקרבונמייד והפליקר שלי:
http://www.yoavlavi.com
http://ylavi.carbonmade.com/
http://www.flickr.com/xejax
Yoav Lavi | יואב לביא joined Society6 on February 6, 2010.