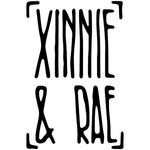 Xinnie and RAE
Xinnie and RAE is a creative duo from Russia. We collaborate with international printshops and microstocks where we showcase various patterns and illustrations applied to different objects such as home decor, gadjets' cases and skins, t-shirts, totes, pillows and others. Xinnie is Xenia Altunyan and RAE is Anna Rodionova. We've been working together for years and are open for collaborating with companies, issues and other designers. http://www.xinnieandrae.com/ Xinnie and RAE joined Society6 on January 2, 2015
More
Xinnie and RAE is a creative duo from Russia. We collaborate with international printshops and microstocks where we showcase various patterns and illustrations applied to different objects such as home decor, gadjets' cases and skins, t-shirts, totes, pillows and others. Xinnie is Xenia Altunyan and RAE is Anna Rodionova. We've been working together for years and are open for collaborating with companies, issues and other designers.
http://www.xinnieandrae.com/
Xinnie and RAE joined Society6 on January 2, 2015.