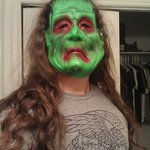 xVeganDestroyerx
I love doing Lovecraftian things. I love Halloween more than Christmas and even my own birthday. I love ghosts and ghouls and monsters and beasts of all kinds. It's pretty much all I do. I love Clive Barker (probably my favorite current horror writer). Stephen King, Clive Barker, and H.P. Lovecraft are my unholy trinity of horror love. It started with an obsession with Edgar Allen Poe which is where it started for them too. It only makes sense that we come to the same horror conclusions and tastes. All of that finds its way into my art. I am inspired by an artist friend named Kristopher who has created his own world in which he lives, in his imagination. It has inspired me to take charge and create MY own world through my eyes. I am also a guitar player, writer, and am currently almost finished with a degree in Game Art. I really want my art in your house. "All I have ever wanted to do is darken the day, and brighten the night." -Clive Barker- xVeganDestroyerx joined Society6 on December 17, 2012
More
I love doing Lovecraftian things. I love Halloween more than Christmas and even my own birthday. I love ghosts and ghouls and monsters and beasts of all kinds. It's pretty much all I do. I love Clive Barker (probably my favorite current horror writer). Stephen King, Clive Barker, and H.P. Lovecraft are my unholy trinity of horror love. It started with an obsession with Edgar Allen Poe which is where it started for them too. It only makes sense that we come to the same horror conclusions and tastes. All of that finds its way into my art. I am inspired by an artist friend named Kristopher who has created his own world in which he lives, in his imagination. It has inspired me to take charge and create MY own world through my eyes. I am also a guitar player, writer, and am currently almost finished with a degree in Game Art. I really want my art in your house.
"All I have ever wanted to do is darken the day, and brighten the night." -Clive Barker-
xVeganDestroyerx joined Society6 on December 17, 2012.
xVeganDestroyerx's Store
15 results
Filter