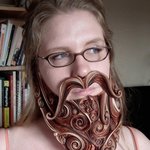 yakawonis
Quilling is the art of taking long thin strips of paper and coiling, looping and shaping them into various designs. Since I discovered quilling in 2010 it has been my passion and goal to push this medium into new and unexpected territory and uses. You can see detail shots of all of my posts at my blog. . . http://yakawonis.blogspot.com/ yakawonis joined Society6 on May 21, 2012
More
Quilling is the art of taking long thin strips of paper and coiling, looping and shaping them into various designs. Since I discovered quilling in 2010 it has been my passion and goal to push this medium into new and unexpected territory and uses.
You can see detail shots of all of my posts at my blog. . .
http://yakawonis.blogspot.com/
yakawonis joined Society6 on May 21, 2012.