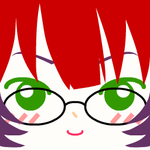 Yami Jay
Hello! I'm Yami Jay! If you guys look around the web, you can find me on Deviant Art and Tumblr under that nickname. A long time ago, I was using Jay Kamiya, Hikari Kudo, Chronos or Sailor Chronos15, but for the past 10 years, I've been Yami Jay. Wow! A decade! I'm a College Graduate in visual art and University Graduate in Translation and Redaction. I'm currently a administrative clerk at the local hospital and work on my artwork the rest of the time. I would like to remind everyone that most my art is on my Deviantart page at http://yamijay.deviantart.com. Any art you would like to see as a T-Shirt or any form? Just let me know. Beside that, hopefully you guys enjoy my work! Yami Jay joined Society6 on November 29, 2013
More
Hello!
I'm Yami Jay! If you guys look around the web, you can find me on Deviant Art and Tumblr under that nickname. A long time ago, I was using Jay Kamiya, Hikari Kudo, Chronos or Sailor Chronos15, but for the past 10 years, I've been Yami Jay. Wow! A decade!
I'm a College Graduate in visual art and University Graduate in Translation and Redaction. I'm currently a administrative clerk at the local hospital and work on my artwork the rest of the time.
I would like to remind everyone that most my art is on my Deviantart page at http://yamijay.deviantart.com. Any art you would like to see as a T-Shirt or any form? Just let me know.
Beside that, hopefully you guys enjoy my work!
Yami Jay joined Society6 on November 29, 2013.