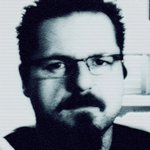 SYLVESTRE
Yannick Sylvestre developed his drawing talent at a young age. Creating his own comic characters, he later developed a passion for inking and story telling. After his graduation, Yannick studied graphic design and quickly discovered how much this media enhanced his creativity. But it's only when he moved to Montreal and met PHIL FAITH, his vision of the arts took on a new face. Graphic design and music is now the epicentre of is life.As an apprentice at INTERF8 Design and GOLEM Record, Yannick started studying and has been fascinated by mysticism. Changing his spiritual perspective has opened a new window on his creativity. Recently, Yannick discovered the fascinating world of cubism. Having been influenced by industrial music years ago and disturbed by is favourite painter, H.R. GiGER, Yannick fall on an other artist, a cubist one. From Belgium, MARIUS ZABINSKI stunned Yannick with his artwork. Obsess by the movement, he started his studies of cubism and on the fathers of the movement, GEORGES BRAQUE and PABLO PICASSO. Now Cubism has become his new muse and the new visage of is art. SYLVESTRE joined Society6 on May 24, 2014
More
Yannick Sylvestre developed his drawing talent at a young age. Creating his own comic characters, he later developed a passion for inking and story telling. After his graduation, Yannick studied graphic design and quickly discovered how much this media enhanced his creativity.
But it's only when he moved to Montreal and met PHIL FAITH, his vision of the arts took on a new face. Graphic design and music is now the epicentre of is life.As an apprentice at INTERF8 Design and GOLEM Record, Yannick started studying and has been fascinated by mysticism. Changing his spiritual perspective has opened a new window on his creativity.
Recently, Yannick discovered the fascinating world of cubism. Having been influenced by industrial music years ago and disturbed by is favourite painter, H.R. GiGER, Yannick fall on an other artist, a cubist one. From Belgium, MARIUS ZABINSKI stunned Yannick with his artwork. Obsess by the movement, he started his studies of cubism and on the fathers of the movement, GEORGES BRAQUE and PABLO PICASSO. Now Cubism has become his new muse and the new visage of is art.
SYLVESTRE joined Society6 on May 24, 2014.